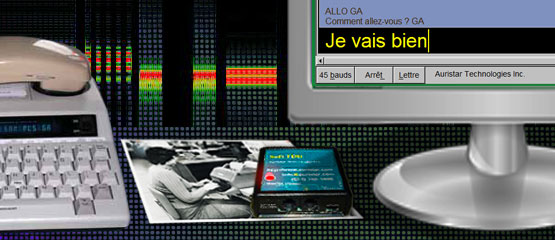 SoftTDD
SoftTDD
SoftTDD a été le fer de lance d'Auristar Technologies depuis sa fondation. C'est un ATS qui utilise la carte de sons de l'ordinateur et se branche sur le téléphone. Nous continuons à y apporter des améliorations.

Nous avons récemment introduit la version Lite qui ne comporte pas de bouton 'Un Instant'. Cette version est plus abordable et convient bien aux entreprises et particuliers dont l'ordinateur sur lequel est installé SoftTDD est allumé en permanence.



SoftTDD has been the main product since the foundation of Auristar Technologies. It is a TDD that uses the soundcard of the computer and is hooked to the telephone set. We are continually improving it.

Recently, the Lite version was introduced. This version does not feature the "WAIT" button. It is more affordable and is well suited for companies or individuals who have the computer where SoftTDD is installed permanently on.
Pour en savoir plus
read more